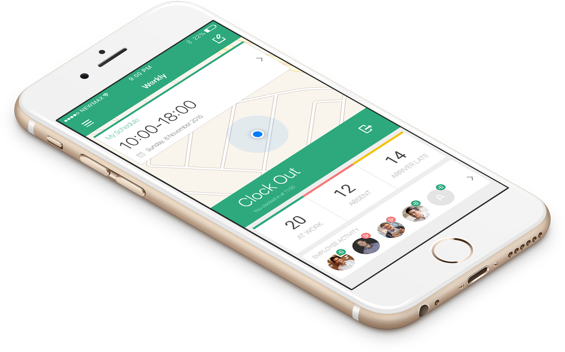 Workly Time & Attendance — manage your staff from your mobile device
No more need to be physically present in the office to monitor attendance and control discipline.
Wide functionality with different access levels (for operating personnel and managers).
Operating employees can mark their clock-in and clock-out times in TimePad with a personal QR code in the Time & Attendance app on their personal smartphone. And also request a day off, view their work schedule, and get other data.
Managers get access to online reports and analytics for each employee (absence, late arrivals, early termination, actual hours worked, and other data).
Mobile app for staff management
Cost-effective solution
There is no need to buy expensive biometric equipment and software. Use ordinary tablets and smartphones.
Fraud protection
The application allows you to mark arrivals and departures only within an acceptable radius from the work area, which excludes fraud (marking by geolocation).
Statistics and reports
Visual statistics and reports on late arrivals and absences for each employee.
Notices
Get real-time notices of employee absence, late arrivals, and early termination.
Flexible settings
Assign employees limited access to the necessary functions and reports on hours worked.
Convenient communication
You can assign a work schedule to an employee. And employees can see their work schedule, check the hours worked, and request for days off.
Time & Attendance, working in conjunction with Workly TimePad, can be implemented in any business in 24 hours
Download the app to your employees' smartphones. From now on, the era of transparent and automated recording of working time begins.
Employees mark their clock-in and clock-out times by means of a personal QR code that the app gives out.
Employees can view their work schedule through the app and request for days off or sick leave.
You can see how efficiently each of your employees is working in online reports.
Edit your work schedule and notify your employees in a few clicks.